Picture Books About Vincent van Gogh
Vincent van Gogh is one of the most iconic and influential artists in history. His works are celebrated around the world, and he has become a symbol of creativity for generations.
Picture books can be an excellent way to introduce children to this amazing artist, teaching them about his life and works while also helping them cultivate an appreciation for art.
Here are some of the best picture books about Van Gogh that will help young minds explore his work in creative ways.
Who is Vincent van Gogh?
Vincent van Gogh was a Dutch post-impressionist painter who is widely regarded as one of the most influential figures in the history of art.
Born in 1853, Van Gogh had a prolific career that lasted for roughly 10 years before his death at just 37 years old.
During his brief lifetime, he created some of the most iconic and recognizable works of art in history.
His paintings are characterized by bold, vibrant colors and energetic brushwork, often depicting scenes from nature or everyday life.
Van Gogh's works have been reproduced countless times over the years, making him one of the most beloved artists in the world today.
Introducing Art to Young Children
Introducing art to young children is important! It can help them learn about famous artists like Vincent van Gogh and appreciate art in different ways.
Picture books are a great way to do this since they have fun stories and bright pictures that will help kids understand the artist's life and work.
Picture Books About Vincent van Gogh
Introducing Vincent Van Gogh to preschoolers can be a fun and exciting experience. Picture books are a great tool to help children explore the world of art.
Through colorful illustrations and simple words, preschoolers can learn about one of the greatest painters of all time. Vincent Van Gogh's story is fascinating, from his love for nature to his unique painting style.
Picture books about Vincent Van Gogh can inspire children to appreciate art and unleash their creativity. Join us on a journey to discover the beautiful world of Vincent Van Gogh!
Discover the secrets behind your favorite artists' creations in this illustrated series, made in partnership with the Metropolitan Museum of Art.
Immerse yourself in Van Gogh's world and learn about his life and inspiration, from his beloved sunflowers to the countryside that fueled his masterpieces.
With What the Artist Saw: Vincent van Gogh, you too can tap into the creativity that drove one of history's most revered painters.
In his entertaining report, Brad delves into the complex life and art of Vincent van Gogh through delightful cartoons and stunning reproductions of famous works, such as Starry Night, while uncovering the joys and struggles of the troubled artist.
Experience an immersive adventure through Vincent van Gogh's celebrated paintings, including The Starry Night and Wheatfield with Crows, as young Vincent and his brother Theo embark on a whimsical journey with a fox.
Along the way, they discover that failure can be a teacher and learn valuable lessons on how to reach their full potential in adulthood.
"Vincent's Colors" is a picture book about Vincent van Gogh, written by Vincent's great-nephew, Vincent Willem van Gogh.
The book takes readers on a colorful journey through Vincent's paintings, showcasing his bold and expressive use of color.
Each page features a different painting from Vincent's collection, along with simple descriptions of the colors used and the emotions they evoke.
The book also includes an introduction about Vincent's life and the inspiration behind his art. "Vincent's Colors" is a vibrant and engaging way to introduce young children to the world of Vincent van Gogh.
This book series introduces Vincent van Gogh in an entertaining and informative way. It combines historical reproductions, photos, and humorous illustrations to educate readers about the artist's life and work.
The book contains poignant anecdotes and factual information about van Gogh, making it an engaging way to learn about the world's greatest artists.
The clever illustrations and story line bring van Gogh's works to life, making for an unforgettable reading experience.
Art pervades all aspects of life, from the serene confines of a library to the bustling city streets.
Distinguishing what constitutes as art versus randomness can be perplexing. Meet Vincent van Gogh, a master of newfangled art forms.
Allow him to enlighten you on the nuances of color theory and the use of graceful, sweeping lines.
Undoubtedly, you'll master his signature curlicues with ease and use them to craft your own vibrant compositions.
Vincent van Gogh suffered from insomnia, and his walks under the starry sky inspired numerous iconic paintings, like The Starry Night.
Despite selling only one painting during his lifetime, he persistently pursued his artistic vision and became one of the most popular and admired artists in history.
Vincent van Gogh, known for his unique perspective, was often misunderstood by society.
However, his younger brother Theo recognized his artistic talent despite his struggles with poverty and mental illness.
This story, utilizing van Gogh's letters and paintings, offers a new and insightful view of the beloved artist's life.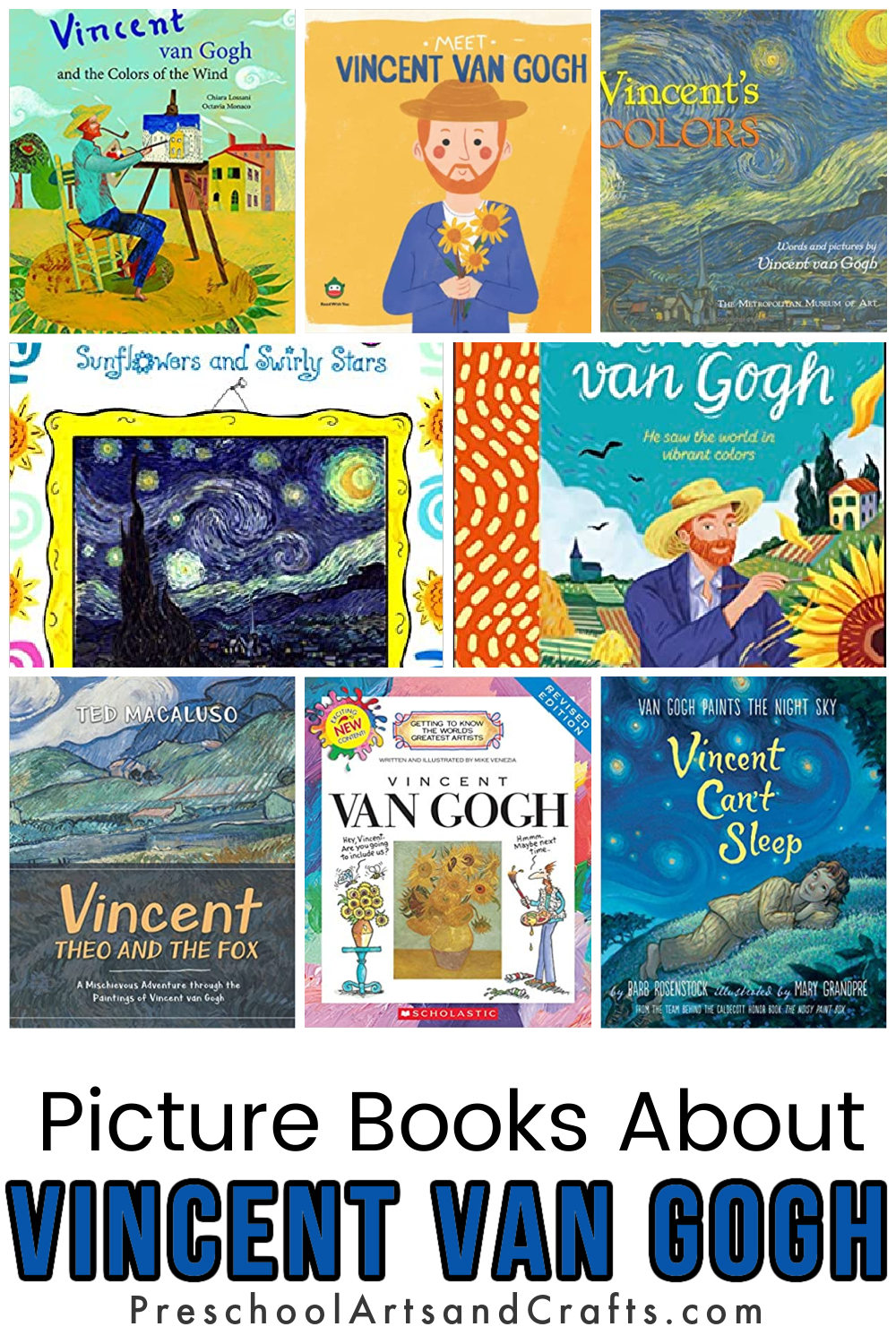 It is important to introduce art and artists like Vincent van Gogh to young children. Picture books are a great way to do this, as they have fun stories and bright pictures that will help kids understand more about the artist's life and work.
With these picture books, children can learn about famous artists like Van Gogh and start to appreciate art in different ways.